Models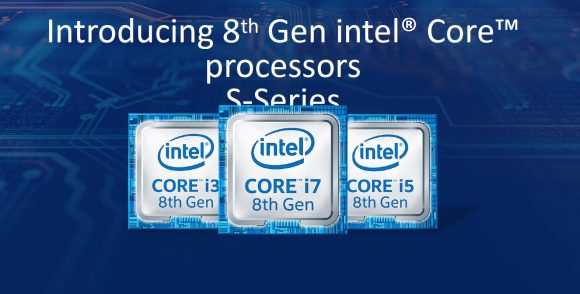 It's been less than a year since introduced their new product launch philosophy, called PAO (Process, architecture, optimization), with the Kaby Lake launch. For those readers who are not up to date, the idea is pretty simple. From a launch model in which a new manufacturing process starts by scaling an existing architecture (tick), followed by a new architecture launched on the same token process a year later (tock), Intel transitioned to a model where the same manufacturing process was optimized to launch a refresh of an existing architecture (Kaby Lake vs Skylake).
At that point we came to see three CPU families (Broadwell, Skylake and Kaby Lake) manufactured in 14nm lithography, Kaby Lake being essentially a simple refresh of the Skylake family. According to this launch model, the next generation of processors (Coffee Lake) would have been launched in 10nm lithography, but this did not happen. Probably the implementation of the 10nm fabrication process was more complicated than Intel expected, so today we are getting the fourth generation of 14nm processors, called Coffee Lake. Of course, we are not talking about a new architecture, Coffee Lake being essentially a Kaby Lake with more cores and a few tweaks here and there. However, the 14nm fabrication process has been refined quite a lot in recent years, Coffee Lake being manufactured on it's 3rd version (14nm ++).
For various reasons, the PAO launch model did not even last for a year, so today we are witnessing a new launch strategy, most likely called PAOWONACTYDAMCHTAGMS (Process Arhitecture Optimization Wait Oh No AMD Can Really Compete This Year Damn Add More Cores Hurry They Are Getting Market Share). I know, I know, it's a bad joke, but it is not far from reality. We can not deny Intel's technological advancement, both on the efficiency side and on the IPC side. Clock per clock, core per core, Intel processors are more efficient, and this should not surprise us, in fact AMD had to recover nearly 10 years from this point of view.
However, in terms of what the consumer is getting, AMD caught Intel by surprise, offering a surprising amount of products that cater most needs, for a lower price. Don't get me wrong, CPU development doesn't happen in months, so Intel had the technology way before AMD made their move. However, AMD's success with the Ryzen launch most likely changed the way in which existing products were marketed and priced. Sure, this year Intel would have had an 18 core server chip anyway. But we might have not seen that chip on a desktop platform if it wasn't for AMD.
Now the time has come to see how Intel's latest mainstream desktop processor family looks like, and at least in terms of specifications, things seem to be too good to be true. We are getting 6 new processors, with prices between 117 and 359 USD. I know, I know, Intel simply couldn't help not to raise the prices a little bit. However, the good part is that this time we are actually geting something extra. The entry level part is called Intel Core i3 8100, it is equipped with 4 cores and 4 threads and is clocked at 3600MHz. The Core i3 family is complemented by one of the most exciting processors released in the last years, namely the Intel Core i3 8350K, a 4GHz model featuring 4-cores and an unlocked multiplier. Core i5 7600K – watch out!
With two cores and 3MB cache in addition, we witness the launch of the most affordable Intel hexacore on the market, the Intel Core i5 8400 (182 USD), which is equipped with 6 cores and a base frequency of 2.8GHz (4GHz with Turbo Boost). However, the processor that will most likely be the star of this launch is called Intel Core i5 8600K, a CPU equipped with 6 cores, running at a base frequency of 3.6GHz and capable of reaching a boost frequency of 4.3GHz. It costs $ 40 more than its 7600K, but by the end of this article, this issue will probably not matter to most readers.
The Core i7 models also add extra 3MB cache, but this time we also see hyper-threading in action. While the Core i7 8700 is clocked at 3.2GHz with a boost frequency of 4.6GHz, the top of the Coffee Lake family, Intel Core i7 8700K, is clocked at 3.7GHz (4.7GHz boost), and is equipped with 6 cores, 12 threads and an unlocked multiplier. This time, the "extra core charge" is $ 54 in excess of the previous generation (7700K), but the price is $ 30 USD lower than the 7800X, and the results … well … you will soon be able to see them soon.
Processors in the Coffee Lake family are equipped with a dual channel memory controller, the Core i3 models supporting up to DDR4 2400, while the Core i5 and Core i7 support DDR4 2666. At least theoretically, up to this moment Coffee Lake CPU's cannot work on Z270 equipped motherboards, so you'll need to buy a new Z370 motherboard. The differences between Z270 and Z270 are minor, the pin configuration in the socket is the same, and Coffee Lake is not a new architecture, so this move is either tied to the power delivery system or a little something called greed.