Icarus-1 by Explore Modding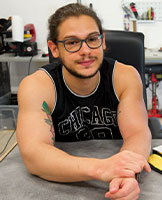 Explore Modding este un entuziast italian, care a devenit pasionat de modding in urma dorintei de a avea un PC unic, iar pasiunea sa a fost rasplatita cu premiile Mod of the Month si Build of the Month de catre Bit-tech, respectiv Builds.gg, precum si cu locul 3 la categoria Tower Mod in cadrul Cooler Master CMWS19, locul 1 la categoria Tower Mod in cadrul Cooler Master CMWS20, respectiv trei premii castigate in cadrul DCMM 2019.
De aceasta data pasiunea sa a luat forma lui Icarus-1, un proiect inspirat din design-ul masinilor din anii 50, precum si din filmele retro Sci-Fi. Pe langa constructia unor panouri personalizate din aluminiu, Explore Modding a racit procesorul cu ajutorul unui circuit de racire cu apa extern, modificat de asemenea in aceeasi tema cu sistemul.