White Oak by BT-CustomPC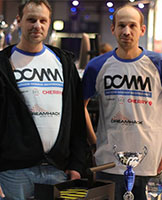 BT-Custom PC, Babetech or Blass Bros, they all mean the same thing, a team of German modders who became interested in PC modding 20 years ago, when the weather outside did not allow them to work on their car. Of course, over time they became infected with the PC modding virus, as they came to build a large number of systems, but also to participate in several high profile competitions.
And besides the competitions, the fact that their works were exhibited in a museum, and the clients who return after years and years for a new PC built by the two, represent a well-deserved recognition of the activity undertaken in this field. The project entered in the competition today is called White Oak and it combines a polished aluminum case with glossy white paint and wood accents, so that the PC can always find its place in the living room. Moreover, the CPU is watercooled.