Icarus-1 by Explore Modding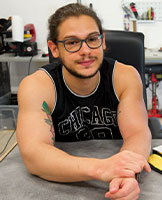 Explore Modding is an Italian enthusiast who became passionate about PC modding because of his his desire to have an unique PC, and his passion was rewarded with the Mod of the Month and Build of the Month awards by Bit-tech and Builds.gg, as well as the 3rd place in the Cooler Master CMWS19 Tower Mod category, the 1st in the Cooler Master CMWS20 Tower Mod category, and three prizes won in DCMM 2019.
This time his passion took the form of Icarus-1, a project inspired by automotive design from the 50's, as well as retro Sci-Fi movies. In addition to the construction of custom aluminum panels, Explore Modding cooled the CPU with an external water cooling circuit, also modified in the same theme as the system.