Carolus Magnus by LAB501 (Monstru & Gabi)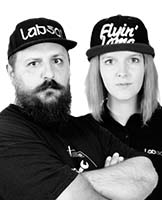 ZOTAC also invited us to the MAGNUS ONE Challenge, and we were honored by this opportunity, so together with my better half we did everything in our powers to rise to the challenge. Since you are reading this, I assume we don't need to introduce ourselves, but for those who don't know us very well, we are part of the LAB501 Team, home of overclocking world champions, insane PC builders and gargantuan beer drinkers.
We fell in love from the very beginning with the shape and size of ZOTAC MAGNUS ONE, which I think is one of the most elegant and well designed mini PC's I have seen so far, which is why we did not necessarily want to change its shape. On the other hand, the idea of ​​turning the little black beast into a real temple of RGB lighting was appealing to us from the very beginning, and the name of the system made us think of a historical personality that fits perfectly into this project.
Thus was Carolus Magnus born, inspired by the life and victories of the father of modern Europe, Charlemagne, a project that seeks to pay tribute to history and how it has been immortalized over time in stained glass. Oh, and last but not least, we used RGB. Lots of RGB. An enormous quantity of RGB! Actually, you know what? My eyes still hurt after taking the pictures.