Ocean by Timpelay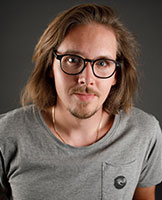 Timpelay comes from Sweden and he took his first steps in the world of modding by building several speaker enclosures, made of different materials. His passion later evolved into PC Modding, and his first scratch build was based on a 1m long aluminum tube.
His passion has been rewarded over time with several awards, such as 2nd place CMWS19 Tower mode, Best cooling and overclocking CMWS20, 1st place / 3rd place Dreamhack casemod competition Master class (since 2015), and 2nd place Builds .gg EK 10k Competition.
The Ocean Project is inspired by the immense stretch of water that surrounds us all, being practically a work of abstract art dedicated to the depths of the ocean.