HAL 2000 by MP-Customized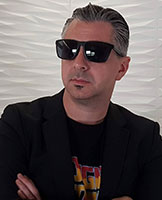 MP-Customized, Mike Petereyns, or the man with the sunglasses, our friend from Belgium is certainly one of the best known modders in the world, with an activity that spans more than a decade, during which an impressive number of spectacular projects came out of his hands. Passionate about engineering and design, Mike has also won a lot of modding competitions and exhibited his projects at Computex, Dreamhack and CES.
1st place Intel Core i7 Challenge (2010), 1st place Intel NUC challenge (2016), 1st place Cooler Master # CMCASEMOD2015, scratch build, 2nd place #CMWS 2015 case modding, places 1-3 Cooler Master Case Modding Benelux (2009 / 2011), 1st place MSI Pro case modding contest Batman vs Superman, 1st place Thermaltake case-mod competition project Shui-Shen and 3rd place LDLC case modding contest Paris Games Week, all these are impressive achievements and they speak for themselves.
For this contest, Mike was inspired by Arthur C. Clarke's Space Odyssey, reinterpreting the HAL 9000 concept with the help of the little ZOTAC MAGNUS ONE.