LoL 1vs1 Showdown
Colegii de la WASD, impreuna cu PCGarage, au pregatit un mega eveniment pentru pasionatii de League of Legends. Mai jos puteti gasi comunicatul de presa trimis de PCGarage.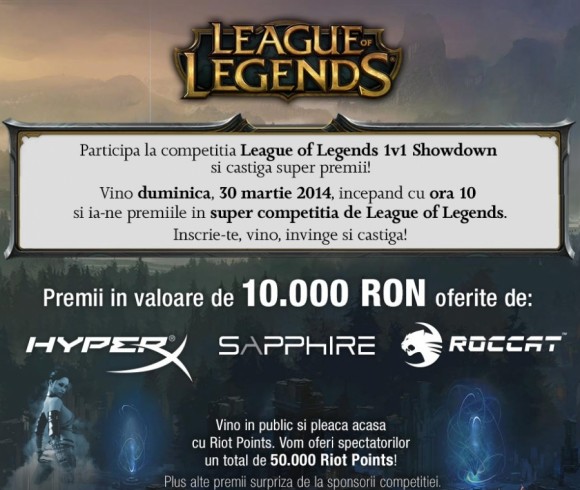 Bucureşti, 17 martie 2014 – PCGarage şi WASD.ro, alături de Sapphire, Kingston şi Roccat, invită comunitatea gamerilor entuziaşti la etapa finală a competiţiei League of Legends 1v1 Showdown, ce va avea loc la PCGarage, pe 30 martie 2014, de la ora 10:00.
Înscrierile pentru cupele online sunt deschise la adresa evenimentului până pe data de 26 martie, dar pasionaţii de League of Legends se pot întrece pentru unul dintre premii şi dacă se înscriu la faţa locului, pentru locurile rezervelor. Campionatul preliminar etapei finale se desfăşoară online, la http://www.mygarage.ro/league-legends-wasd-ro/.
Fanii League of Legends care vor fi prezenţi la eveniment pentru a-şi susţine preferaţii au şansa de câştiga, prin tragere la sorţi, 50.000 de Riot Points sau unul dintre cele 5 stick-uri de memorie USB 3.0 Kingston DataTraveler R3.0.
Participanţii în competiţia LOL 1v1 Showdown concurează pentru unul dintre premiile puse în joc de către sponsorii evenimentului, astfel:

Locul 1
1x SAPPHIRE RADEON R9 290 Tri-X 4GB GDDR5, 1 x SSD Kingston HyperX 3K 240 GB, 1x Roccat Ryos MK Pro, 1x Roccat Kone XTD, 3200 Riot Points + Triumphant Ryze
Locul 2
1x SAPPHIRE RADEON R9 280X Toxic 3GB GDDR5 OC, 1x SSD Kingston HyperX 3K 120 GB, 1x Roccat Isku FX, 1x Roccat Kone Pure, 2400 Riot Points
Locul 3
1x SAPPHIRE RADEON R9 270X Toxic 2GB GDDR5 with boost, 1x SSD Kingston V300 120 GB, 1x Roccat Isku, 1x Roccat Kova+, 1600 Riot Points
Locul 4
1x SSD Kingston V300 60 GB, 1x Roccat Kova+, 800 Riot Points
Mai multe detalii puteţi accesa consultând regulamentul competiţiei.